NAXCEL®
(ceftiofur sodium) Sterile Powder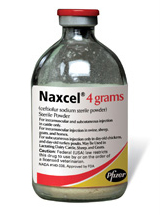 First antibiotic with a zero milk discard.
When considering antibiotic treatment for their animals, many producers worry about wasted milk and violative milk residues. NAXCEL® (ceftiofur sodium) Sterile Powder offers the assurance of zero milk discard backed by the Residue Free Guarantee*.
NAXCEL is an efficacious treatment for foot rot and pneumonia with a track record of successful results. A single dose of NAXCEL every day for three days reduces body temperature and kills pathogens fast. Its low-volume dosage, subcutaneous administration and aqueous formulation help meet quality assurance guidelines. And unlike penicillin, NAXCEL requires zero milk discard, so it eliminates concerns over drug residues in milk.
Indications: NAXCEL is indicated for treatment of bovine respiratory disease (BRD, shipping fever, pneumonia) associated with Mannheimia (Pasteurella) haemolytica, Pasteurella multocida and Haemophilus somnus. NAXCEL also is indicated for treatment of acute bovine interdigital necrobacillosis (foot rot, pododermatitis) associated with Fusobacterium necrophorum and Bacteroides melaninogenicus.