FLUVAC INNOVATOR®
NO OTHER VACCINE IS MORE TRUSTED1
The FLUVAC INNOVATOR line of vaccines helps keep your horse healthy and provides him with broad protection against newly emerging and conventional equine influenza virus (EIV) strains as well as equine herpesvirus (EHV-1 and EHV-4).2-7
A total of six studies have demonstrated FLUVAC INNOVATOR is effective against emerging equine influenza strains.2-7 Zoetis regularly tests FLUVAC INNOVATOR to ensure our vaccine continues to be effective against emerging EIV isolates.

Video: How are vaccines tested and evaluated?
Equine influenza is one of the most common respiratory diseases in horses, spreading by aerosol transmission (coughing) from horse-to-horse in distances as far as 50 yards. That's why having an effective, trusted vaccine is so important.
When you choose the most trusted vaccine to help protect your horses, you can rest easy because FLUVAC INNOVATOR is backed by the most comprehensive Equine Immunization Support Guarantee in the industry.
Make Following the USEF Vaccination Requirements Easy with FLUVAC INNOVATOR
As of December 1, 2015, all horses entering the grounds of a USEF-licensed competition must be accompanied by documentation of equine influenza virus (EIV) and equine herpesvirus (EHV) vaccinations within the previous 6 months. Horses without documentation may be required to leave the competition grounds.
Get clarity on the new USEF Vaccination Requirements – watch Dr. Kent Allen, chairman of the USEF Drug and Medications and Veterinary Committee explain the rule.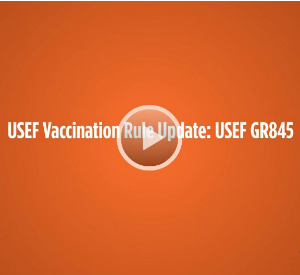 FLUVAC INNOVATOR makes preparing your records even easier. Your veterinarian can simply apply the product label sticker that is provided with each dose on the USEF record to quickly record your horse's vaccination.