CORE EQ INNOVATOR®
THE FIRST AND ONLY VACCINE TO CONTAIN ALL CORE EQUINE DISEASE ANTIGENS IN ONE VACCINE.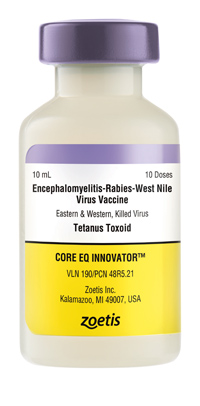 All horses face ongoing exposure to rabies, tetanus, West Nile, and Eastern and Western equine encephalomyelitis (EEE, WEE). These core equine diseases can have a fatal impact.1
Now veterinarians have a single-injection solution to help prevent core equine diseases: CORE EQ INNOVATOR®. Horse owners, learn more here >>
DEMONSTRATED SAFE
CORE EQ INNOVATOR is 99.7% reaction free, as shown in multiple field safety studies.2,3
CORE EQ INNOVATOR – along with all INNOVATOR vaccines – is microfiltered five times through a diafiltration process that helps remove extraneous proteins from the vaccine's antigen components, resulting in a vaccine with antigen purity.
PROVEN EFFICACY
Against rabies, CORE EQ INNOVATOR showed a 14-month duration of immunity when administered to 3-month-old horses.
For West Nile virus, CORE EQ INNOVATOR demonstrated a 12-month duration of immunity when administered to 10-month-old horses.
CORE EQ INNOVATOR contains the adjuvant MetaStim®, which is designed for safe, enhanced presentation of antigens to the horse's immune system. MetaStim features a dual-phase formulation shown to stimulate both cell-mediated and humoral immunity.4,5 Only INNOVATOR vaccines from Zoetis are adjuvanted with MetaStim for improved immune response.
VETERINARIAN-ONLY VACCINE FOR THE GOOD OF THE HORSE
Only available through a veterinarian, CORE EQ INNOVATOR helps ensure all horses are receiving annual wellness care involving an equine health professional.
CORE EQ INNOVATOR provides increased flexibility for individualized equine vaccine programs as all horses need to be protected against the core diseases annually. By dividing core and risk-based disease antigens into separate injections, risk-based vaccines can then be administered independently to meet the needs of each individual horse.
All antigens in CORE EQ INNOVATOR are backed by the Zoetis Equine Immunization Support Guarantee to provide you and your clients peace of mind through unparalleled vaccination support.